GIFT CARDS AVAILABLE!

Gators Wing Shack is fast becoming your "one-stop-shack" for fun, food, drink, sports and private parties in Chicago's northern suburbs. The original Gators Wing Shack opened in Wheeling in 1996, and in 2001 opened a second location in Palatine, IL. This great taste experience quickly expanded to a Gators Wing Shack location in Waukegan, IL where we've been welcoming customers since May of 2006 through March 30th of 2013.
Famous for serving up award-winnings wings for ten years in a row now – including "Best of Fest" top honors at Chicago's annual WingFest – Gators Wing Shack insists on only the highest standards of quality and freshness for all of its menu items. Appetizers. Salads. Meats. Poultry. Seafood. Did we mention WINGS?

Great Location.


Experience the friendly, clean and relaxed atmosphere– not to mention the WINGS – of Gators Wing Shack Grill & Pizzeria in Palatine. Gators Wing Shack Grill & Pizzeria in Palatine offers the complete "night out" experience that includes dining and a sports bar. You'll satisfy your cravings by enjoying Gators Wing Shack's full menu topped, of course, by our award-winning WINGS.

Planning a Party? We'll Help You Wing It.


As a family-owned enterprise, Gators Wing Shack's owners – David Weiss and Neil Jolcover – have created a family-friendly environment in which you can comfortably entertain your own family and friends. Gators Wing Shack Grill & Pizzeria in Palatine has a Party Room perfect for groups of up to 50 people. Ideal for birthdays, anniversaries, office parties, benefits, church groups. Need more space? We can incorporate our main dining room to accommodate another 100 guests. Among our party packages is a Youth Team Party Package perfect for entertaining youngsters between ages 6 and 13. We'd be happy to host and cater your next event. Just give us a call. Say, did we mention our WINGS?
WE CAN ALSO CATER ANY EVENT
For details about our catering services call:
NEIL or DAVID: 847.705.0555

CLICK ON COUPONS TO PRINT OUT
(Good for Gators Wing Shack in Palatine ONLY)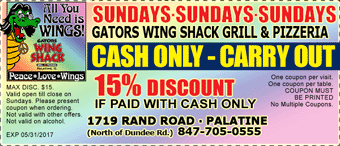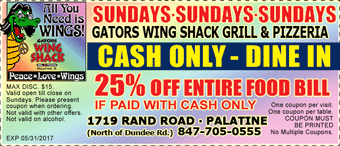 Gators Wing Shack featured on
WGN9 NEWS!


Click here to see a clip from WGN9 NEWS


Gators Wing Shack was featured on
CLTV's Chicago's Best!


Click here to see a clip from CLTV's Chicago's Best



NO DELIVERY on Sunday, February 3rd., 2013

The garlic wings are wonderful - EXTREME garlic. Not for the faint of heart! Guaranteed to keep vampires away.

Great spot to watch a sporting event with good food and spirits.

World's Greatest Hot Wings!
Gators has the best hot wings I have ever tasted!

Gators is a fun bar with good food, darts, and pool...a few years ago they opened a second location in Palatine on Rand north of Dundee. If you are a true garlic lover, the kind of person who thinks there's no such thing as too much garlic, then you MUST have the Garlic Wings from Gators. They are unbelievably delicious!

Excellent wings.

Best Wings ever!!!!!!!!!

BEST WINGS IV'E HAD AND I HAD LOTS AND LOTS AND LOTS OF WINGS!!!!!!!!.

Great wings! Big too. Lots of flavor. Probably the the best I've had. Sandwiches are just as good. Not typical bar food. Pizza is worth ordering as well...

Awesome wings. Especially the hot garlic wings.